Contents
vPOSit System Overview
Getting Started
Input Connectors
Drag and Drop Via BigCommerce App
Dropbox Integration
Email Integration
API Integration
Product Mapping
Default Mapping Format
Custom Mapping
Business Rules
Reporting
vPOSit System Overview
vPOSit (Vesta Point of Sale Integration Toolkit) is a Run-On-Demand cloud solution providing integration between any Point of Sale system capable of exporting a Product Data File and eCommerce platforms.
Upon signing up for vPOSit you will be contacted by our dedicated Setup Team who will walk you through the setup process and create an integration that fits your individual business requirements.
Once your vPOSit integration is in place it can be run at any time by submitting your product file via any of our Input Connectors.
vPOSit currently supports csv files as input and connects to BigCommerce online stores. If your POS system cannot export a csv file, or you are using an alternate eCommerce platform please get in touch, we are happy to look at expanding support to further formats and platforms.
Getting Started
A vPOSit Setup Team member will get in touch to evaluate the exporting capabilities of your POS system, and your exact business requirements.
Using this information, we will create your very own vPOSit integration. Each integration consists of four main parts.
Input Connectors: How to get the data from your POS to vPOSit
Product Mapping: How the data in your Product File relates to data in your Online Store
Business Logic: What special data processing rules are required to achieve your business requirements
Reporting: High level and detailed reporting on actions taken by vPOSit.
All you need to do is submit Product Data Files using any of our provided Input Connectors.
Input Connectors
Input Connectors serve two purposes:
Receive Product Data from your POS system
Trigger an Integration Run whenever Product Data is received
The four input connectors offer a range of integration solutions to suit all business applications
Drag and Drop Via BigCommerce App
As part of the vPOSit Setup Process, BigCommerce users receive the vPOSit BigCommerce Integration Dashboard App.
Simply log into your BigCommerce store and navigate to [Apps] -> [vPOSit Integration Dashboard]. From here you can drag and drop your Product Data File and sit back as your Online Store is updated.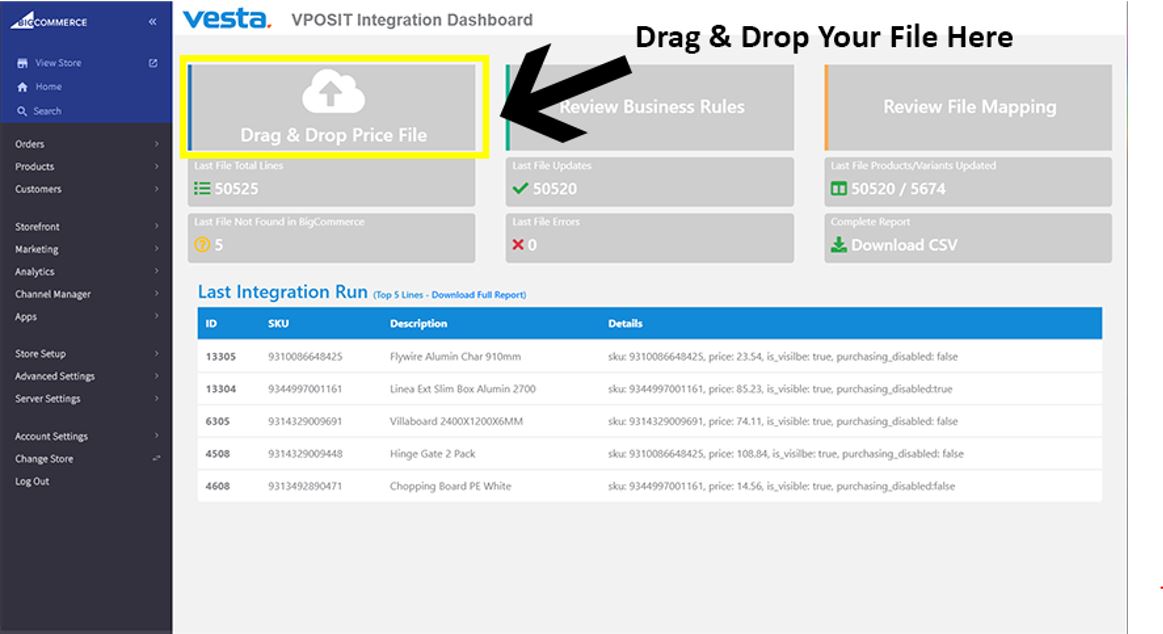 Dropbox Integration
All vPOSit users are provided with their very own Dropbox folder connected directly to vPOSit. This offers a flexible set of methods to get your Product Data File into vPOSit. Using the Dropbox Desktop App to add your vPOSit Dropbox Folder to your desktop offers convenient Product Data File submission options:
Manually drag a Product Data File into the vPOSit Dropbox folder on your desktop for upload to vPOSit
Set up an automatic export from your POS system to the vPOSit Dropbox Folder on your desktop for an entirely hands-off integration solution
You can also log into your Dropbox account and submit files to the vPOSit Dropbox folder via your browser.
Email Integration
All vPOSit users are provided with an email receiver address. This allows you to email Product Data Files to vPOSit using your provided Integration Identifier Code in the email Subject or Body. vPOSit then updates your store using your attached file.
Some POS systems can automate the export and emailing of a Product Data File, allowing for a completely hands-off solution. Both automatically and manually emailed files are Run-On-Demand by vPOSit for immediate processing.
API Integration
All vPOSit users are provided with an API endpoint and access key which can be used to create an automatic export from your POS system to vPOSit. Details of the API endpoint are provided as required.
Product Mapping
All vPOSit Integrations are built around Product Mapping – the relationship between fields in your Product Data File and the data powering your Online Store.
For POS systems capable of exporting custom Product Data Files, we offer the vPOSit Default Mapping format. All other POS systems or users with more advanced requirements are handled by Custom Mapping.
Default Mapping Format
The vPOSit default mapping offers the following fields, which must be used as your Product Data File headers. The only required field is Product Code, and this must match the desired Product Code in your Online Store
Product Code: Used to match to the product in your Online Store.
Retail Price: The price to be set on your Online Store
Quantity Available: The quantity to set against the product in your Online Store
Product Visibility: Should this product be visible or non-visible in your Online Store
Custom Mapping
If your POS system is not capable of exporting a custom Product Data File, we will build your very own mapping based on whatever Product Data File your system can export. Custom Mapping can also be used to expand on the fields offered by our Default Mapping Format.
As long as you hold a Product Code in your POS matching the Product Code in your online store, you will be able to update any other fields.
Business Rules
Sometimes a direct mapping from a field in your POS system to a field in your Online Store is not enough to handle your exact business requirements. This is where Business Rules come in.
Business Rules are defined during the Setup Process and consultation and persist until you wish to change, remove, or add to them. Business rules can be as simple or complex as you require, all that we require is the relevant data to be present in your Product Data File. A few examples of Business Rules include:
If a product has <= 0 inventory, display a custom lead time on the product online, and/or make it unavailable for purchase
Setting/removal of Product sale pricing
Setting/removal of Product minimum/maximum order quantities
If you wish to add/remove/modify your Business Rules, simply get in touch!
Reporting
Every time vPOSit processes your Product Data File you will receive an email summary of actions taken on your Online Store, including alerts for any issues which may require attention. This email report includes a link to download a Full Report CSV with in-depth action history for your records.
BigCommerce users also have access to the vPOSit Integration Dashboard, which presents a graphical summary of actions taken according to your last Product Data File submission, and a link to download the latest Full Report csv