This article will guide you through the easy steps for completing a customer's request for your pricing data. Before you complete these pricing steps, please ensure that you have uploaded your products to the Portal. See our Product Upload Article for more help.
01. Before uploading any pricing, you will need to subscribe to the Pricing Add On. The pricing add on gives you access to a fully secure and encrypted portal in Vesta where you can easily share your pricing with customers.
You can subscribe to the Pricing Add On function by navigating to My Account > Usage & Plans, then scroll down to Price Add-On and click the Subscribe button. Please note that only the assigned admin user can access this.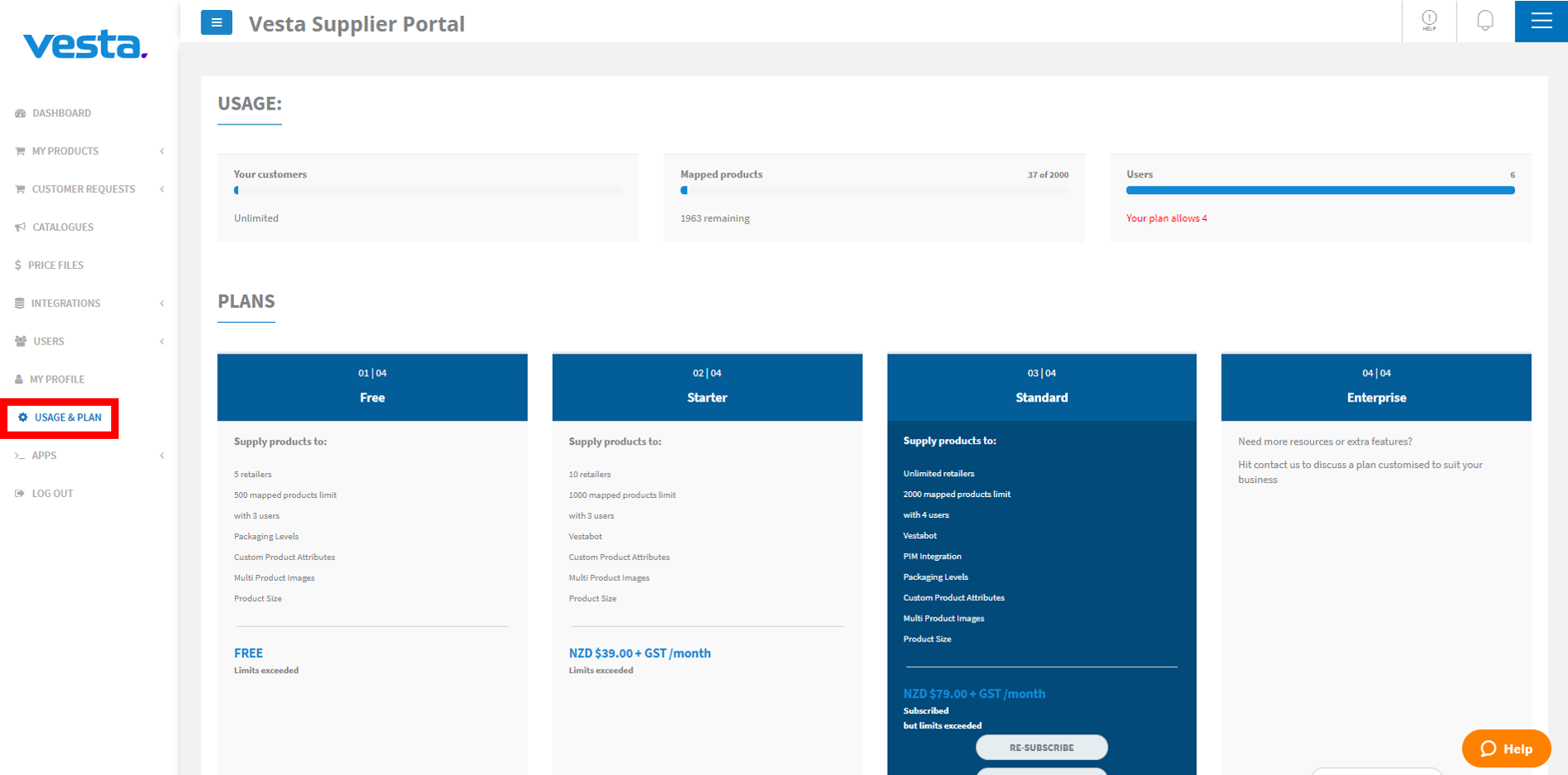 The price add-on tab will appear on your left menu once activated.
Please note: If you have previously uploaded pricing onto Vesta, you simply need to Export your existing price file. To do this, go to the Pricing tab, and click Export Price File. This will then send you a spreadsheet of your current pricing in Vesta. Now you can update the products with your new pricing and effective dates, and reupload it by clicking on Import Price File (see Step 05).
Note: You can only upload pricing for existing products on the portal. If you are wanting to add pricing for NEW products, proceed back to Step 06 in Product Upload article to ensure that these new products have been uploaded to your Portal.
03. Put a Price Group name for each Product Code in the Price Group Name column. Repeat this for each SKU. If the pricing group is the same for every product, just copy and paste the Price Group name across all rows. Repeat this for every price group.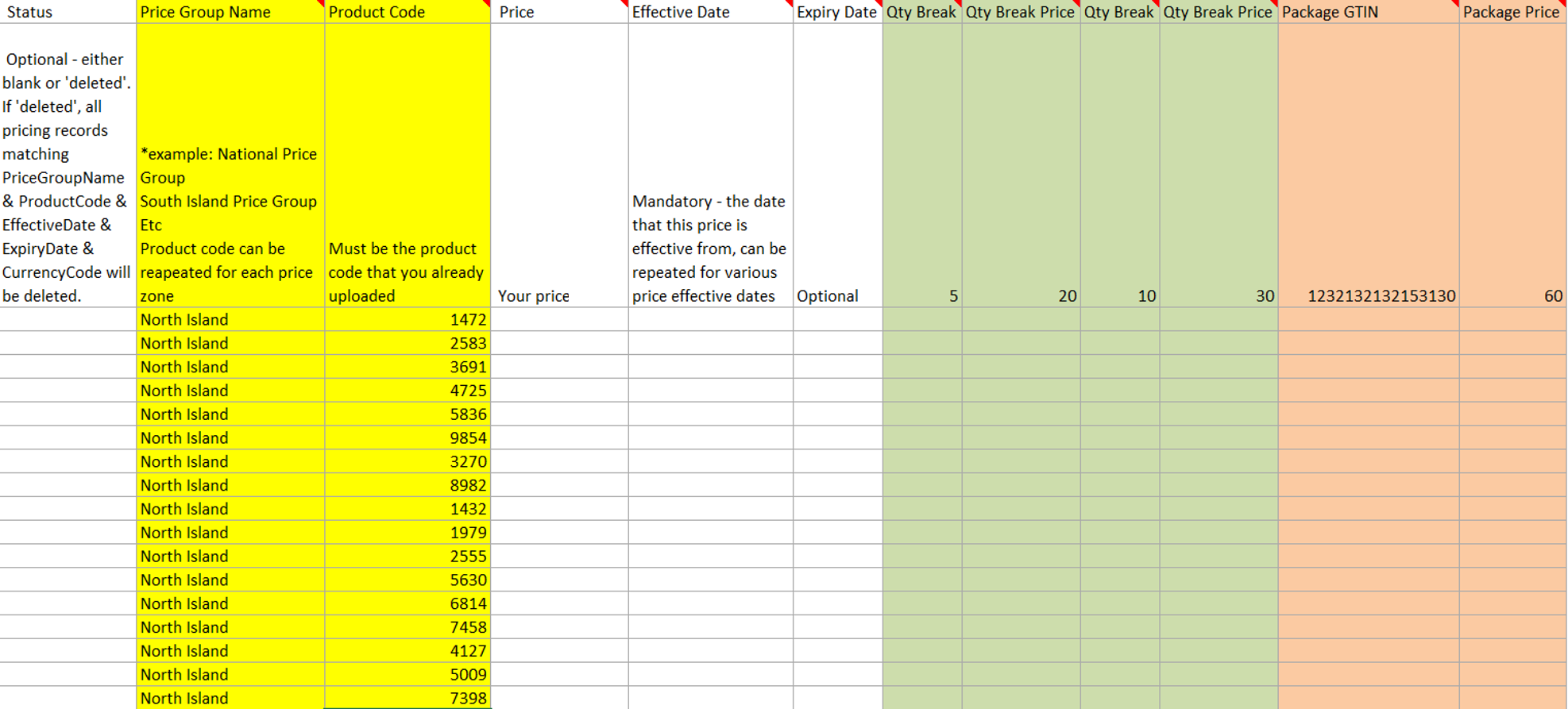 04. In the Effective Date column, put the date that the price is effective from. It can be repeated for various price-effective dates and can be done for future pricing. E.g. For a product price changing in 6 months, simply repeat the Product Code and Price Group Name underneath, then put the advance price and new effective date.


05. Once you have completed your spreadsheet, upload it to the portal by logging in to the Supplier Portal and clicking the Price Files tab on the left side. Select Import Price File button and then, on the next page, select Choose your File and upload the spreadsheet.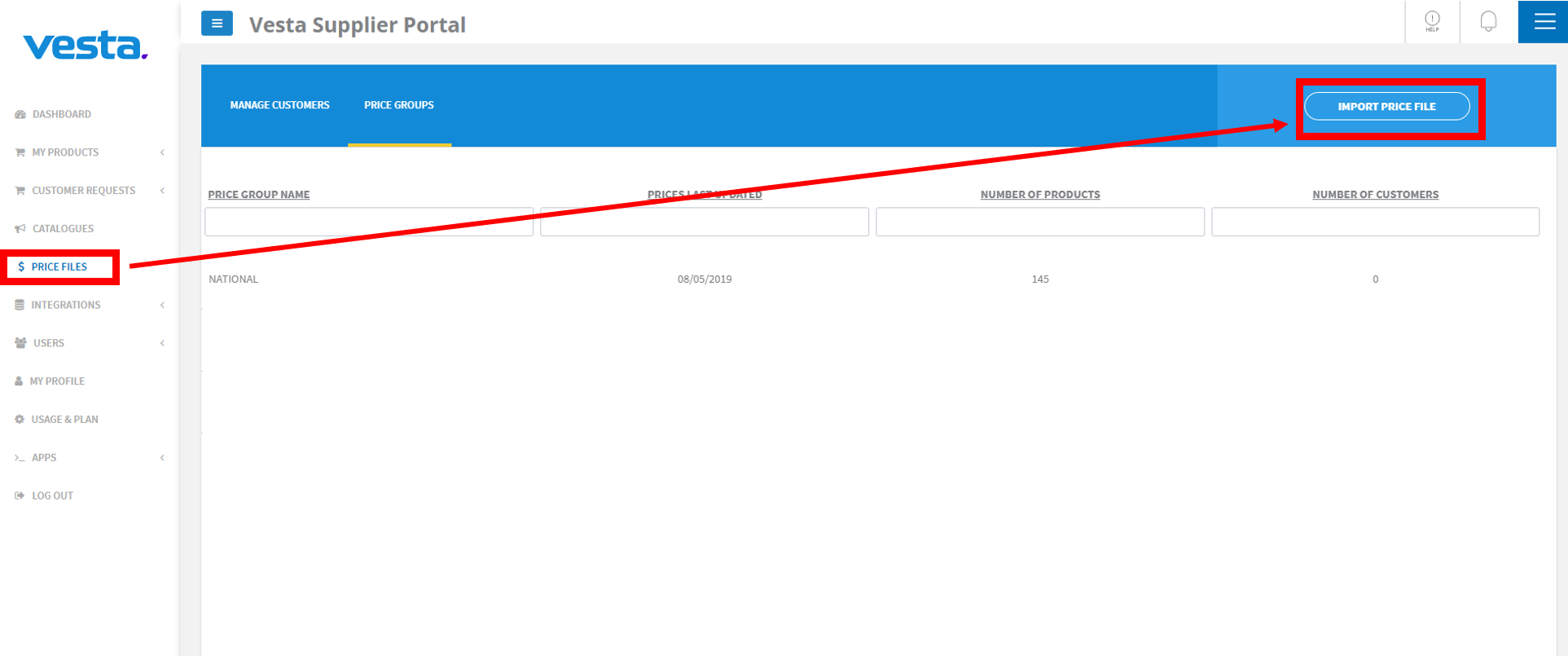 06. Similar to the Product Uploading process, you will then be asked to match up your spreadsheet columns with the Vesta headers. You will see the first few columns from your spreadsheet displayed as a preview. Once you are done matching up the columns, click on Process the Data on the right side.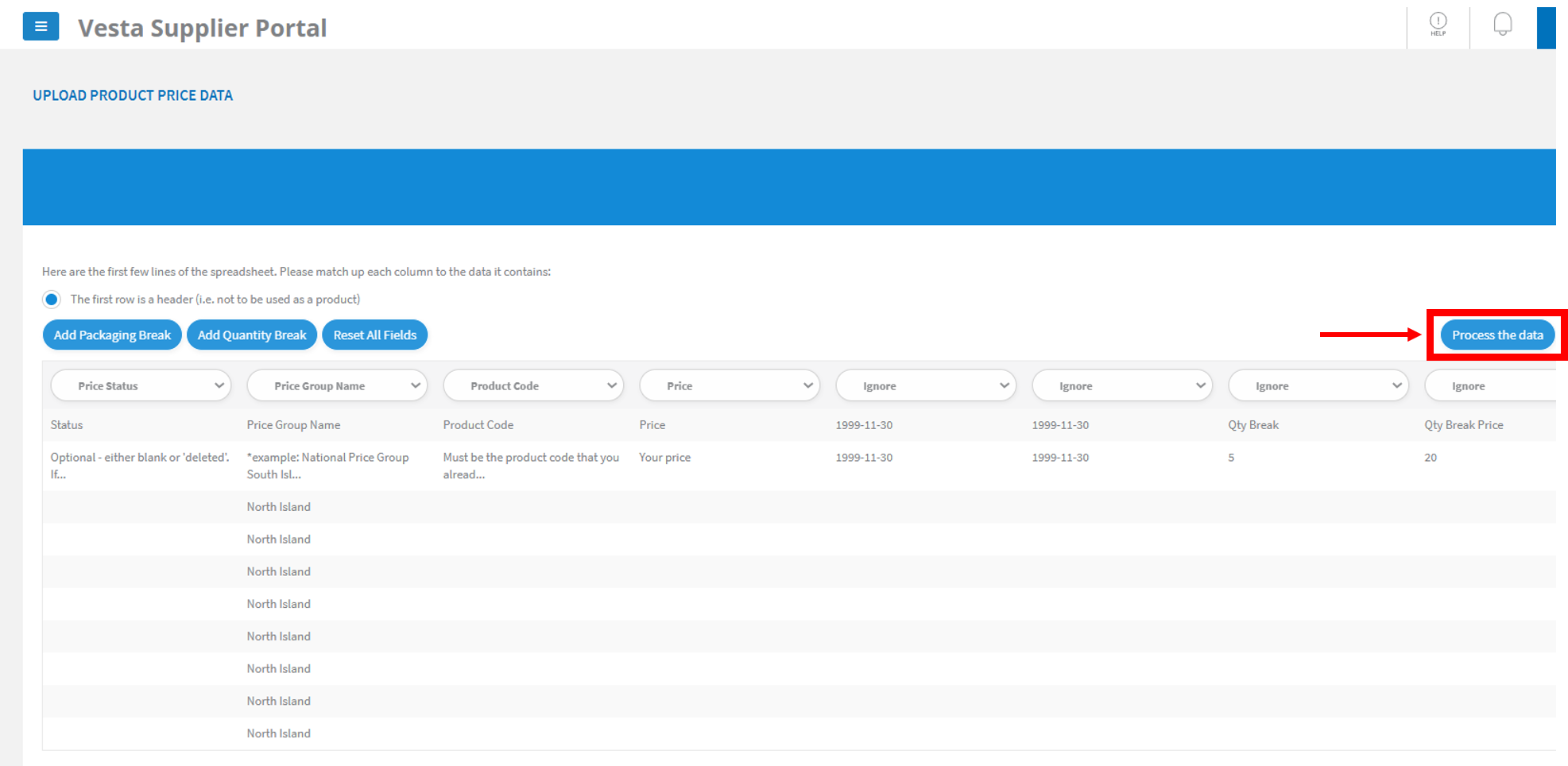 07. Once the spreadsheet has finished processing, you will be taken to your Price Groups page. This is an overview of your uploaded price groups. To complete the Pricing Upload process, click on the Manage Customers tab at the top left to map your price group(s) to your customer's price region(s). Click on the yellow button to select your Price Group to map, then Save.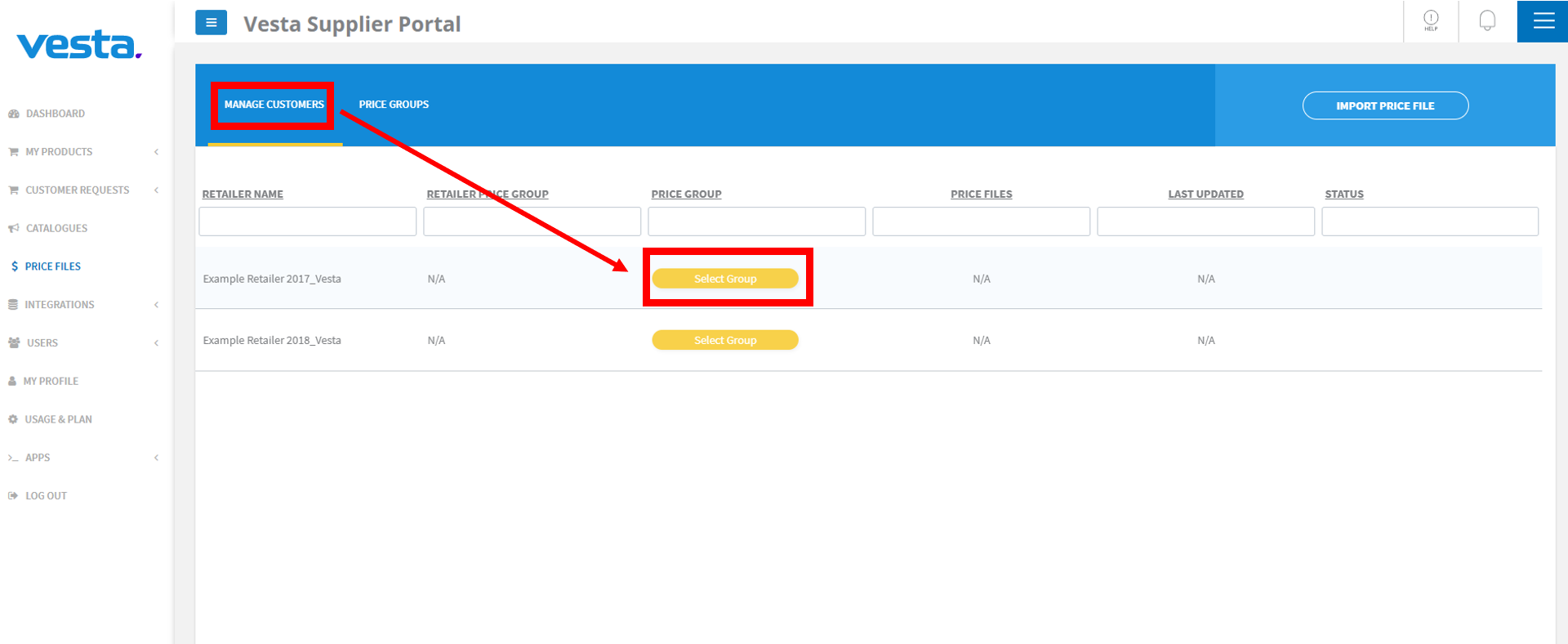 Note: If you just have a National Price Group, you only need to map it once to your customer's price region. Do not map your national price group to the other regions as this will send multiple files to your customer.
You have now successfully sent your price files to your customer(s)! If you need any further help, feel free to reach out to our friendly Vesta support staff via the LiveChat button in the bottom right, or for frequently asked questions regarding pricing, please see our FAQ article.